This year took us to new frontiers. We established a second office in the Triad, allowing us to better serve central and western North Carolina. The new office is coming along nicely, thanks to Skip's artistic eye and Jessica's perseverance.
The walls are awaiting a fresh coat of paint (Carney blue, anyone?). Then we will share the final product. We cannot wait to host Triad clients at our new location.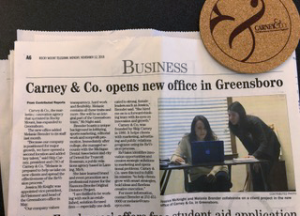 In addition to locations, we also expanded our digital marketing services. Our new hires have allowed us to dig deeper into social media, Google Adwords and other digital marketing platforms. We have been in digital for awhile – we even have our own green screen and studio to create web commercials in-house – but the landscape is constantly changing, and we've been transforming along with it.
However, transforming services doesn't compare to changing hearts and souls. We were pleased to produce and promote the ReNew18 Pastors Conference at North Carolina Wesleyan College this October. Skip was on the speaking panel alongside President and CEO of LifeWay Christian Resources Thom Rainer, and President of Artistry Labs Richard Reising. Thom Rainer has authored more than two dozen books on church.
It was at this conference Skip launched his first book, "The Greatest Church in the World." Our CSO penned a modern parable, outlining ten guidelines any church can follow to become The Greatest Church in the World. Proceeds from the book benefit the Foundation for Christian Education.
Skip has been sharing the book's message far and wide. Visit facebook.com/skipcarneyauthor for more information on his upcoming author events.
We were also fortunate to produce and promote the Marketing Innovation Experience at North Carolina Wesleyan. This event went by the nickname MiX, or #MiX18NC for the social media savvy. It was an empowering conference, and Skip spoke on a panel of great innovators.
Amidst all the changes, our ReVision process remained a staple in the unique services we provide. We enjoyed facilitating four large ReVision sessions this year, with some mini-sessions sprinkled in.
Skip founded this marketing innovation agency in January 1980. Here we are nearly 39 years later, as passionate and innovative as ever. Thank you to all our clients and contacts. You challenge us to be the best version of ourselves, and we are fortunate to play a role in your success.
Thank you for letting us serve you another year. We know 2019 will be our best yet.