Whether you live in a town where there's a bank on every corner, or a town where there are only two banks in the whole town, you want a bank that treats you like a friend. With benefits.
At Southern Bank, that starts with being exactly who they are… Southern. Where hospitality is a given and the people behind the counter are the same ones sitting next to you at the big game on Saturday or church on Sunday. Where, when you pass at the grocery store, you say "Hey!"
More often than not, what you say tells just as much about you as how you say it.
Through strategic marketing based on the ReVision process, Carney & Co., The Marketing Innovation Agency, helped Southern Bank better communicate their unique personal and professional banking relationship style. By being better business partners with firms in their hometowns, Southern's community involvement not only leads to positive business interactions, but more importantly, makes an impact on the local community.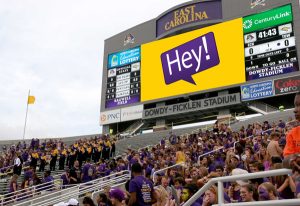 Take for instance, the Greenville, NC, area, home of East Carolina University. With 5 locations within a 20 minute radius, Southern Bank is an integral part of ECU and the Greenville area. Rather than focus on the beautiful banking facilities, convenience or services, Southern speaks volumes through their partnerships in the community. The Southern Star Awards recognize local folks for helping make a positive impact in their community. And sponsorship at home football games with a Jumbotron Spot brings the entire stadium in on the act, with 20,000 fans shouting Southern's signature "Hey!"
The campaign received multiple awards at the annual Marketing Communications Agency Network competition for Television, Business-to-Business Sales Sheet Series, Public Relations Broadcasts, Brochures, and the Television Campaign: At Southern Bank, we say "Hey!"
Southern can easily say they can make your money work for you. They have all the bells and whistles to do your banking in a branch, in your office, or in your pajamas. But the difference, the Southern difference, is that Southern speaks their customers' language. They've been doing it since 1901.
Hey! Need your marketing to speak so your customers listen?
Contact jessica@carneyco.com