We've been taking care of brands since 1980. We have managed advertising, marketing and public relations programs for a wide variety of companies… B2B, B2C, and B2B2C. Websites, trade show exhibits, packaging, even a hot air balloon. If it has something to do with marketing (and doesn't everything), we've been there, done it, and we have the t-shirt to prove it.
In 2011, things changed.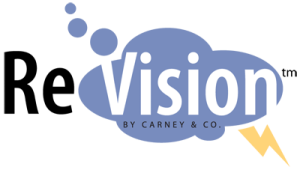 It was 2011 when we adopted a process that revolutionized the way we approach our client's problems. ReVision™ is our secret sauce. It's how we ensure that our plans are fully embraced by our client's team, are on target, customer-focused, and innovative. Honestly, it's the difference between good advertising and great marketing. It's the difference between breakthrough creative tactics and a market-changing strategy. It's the difference that makes the big difference.
More about You – The Right Client
We can't work with everyone, but we always have room for the "right" client. Truth is, we only take on three to four new full-service clients each year so we take extra care to get it right. Our ideal client is a $25 million to $100 million company, is providing a great product or service, and is ready to grow. We have developed special, project-oriented services designed to help smaller companies that aren't ready for a full-service relationship but are ready to go to the next level with their marketing.
A word about values.
We are a company grounded in Christian values of honesty, integrity, respect, kindness, and a sense of social responsibility and we like to work with companies that share those same values. We want our work to honor God and we ask God everyday to guide us and to help our clients in the marketplace. We call this "taking your business to a higher power." We think this may be the most valuable thing we do even though it's free.
Our Mission
Our mission is to help our clients grow with smart strategies, bold ideas, and flawless creative execution. Our job is to change the future.
Want to know more about Marketing Innovation?